Nobody likes a drained battery in the middle of a camping trip. Well, noble camper, you need not suffer the same fate as other less-informed adventurers. Solar-powered gadgets not only ensure functional reliability but also often outperform battery-powered equivalents. As equal partners in harnessing the power of nature, the modern camper and solar-powered gadgets go hand in hand.
Here are 10 must-have camping gadgets (all powered by solar), in no particular order.
1. Inflatable Solar Lantern by MPOWERD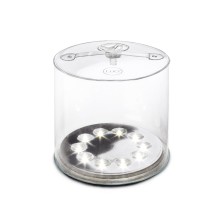 Perfect for backpackers with limited space for gear, an inflatable solar lantern from MPOWERD weighs only .3 pounds and emits a soft white LED light. The built-in solar panels are rechargeable and last up to 12 hours after a 7-hour charge in direct sunlight. Even better, the lantern is waterproof and shatterproof, so you can throw it in your pack and go adventuring without worrying about damage.
2. Solar Charger Backpack by ECEEN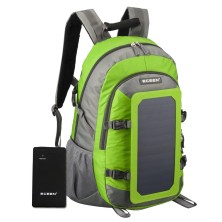 ECEEN's solar charger backpack combines everything you need into one lightweight, weather-resistant bag. Need to charge your phone? The Solar Bag can help. How about charging a GPS system? Done. A set of Bluetooth speakers? Check. You can rest assured knowing that this cost-effective bag will charge any USB device and carry your precious goods.
3. 5-Gallon Solar Shower by Coleman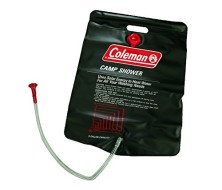 You can take a warm shower while in the wilderness. The Coleman 5-gallon solar shower uses energy from the sun to heat and dispense water to keep you feeling clean no matter how long you've been camping. Just hang the bag on a tree branch when you arrive at your campsite, and within a few hours you'll be enjoying a shower just like at home. Rugged and hygienic, the bag holds five gallons of water, which means you can take multiple showers before having to refill.
4. Solar Flashlight by ECEEN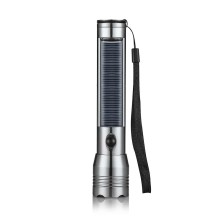 Few things are worse than a dead flashlight on a pitch-black hike. Fortunately, we live in an age of reliable solar flashlights. The ECEEN solar flashlight can shine LED-white light continuously for more than four hours. If you're worried about overcast conditions not providing the solar charge you need, an AC charger will also do the trick. In addition to providing consistently bright light that stretches up to 20 meters ahead, this flashlight is durable and built to last.
5. Solar Water Purifier by Puralytics
A solar-powered water purifier is essential for the prepared camper. The Puralytics purifier uses solar power to remove virtually every harmful chemical found in contaminated water. Just fill the bag with water, put it in a place where the sun can reach it, and within a couple of hours you will have purified, drinkable water. The purifier also comes with a self-cleaning mesh skin that doesn't clog, holds three liters of water, and can be reused hundreds of times.
6. Solar-Powered Moultrie Camera Charger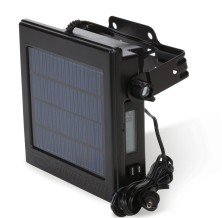 Moultrie brand cameras are excellent trail cameras, perfect for capturing wildlife and beautiful vistas. The only problem is finding a reliable battery source for extended journeys. The Moultrie solar-powered charger is compatible with every Moultrie camera as far back as 2007. With mountable accessories, getting the right angle toward the sun is not a problem. Just like you, this solar-powered charger is weather resistant and ready for adventuring.
7. Solar-Compatible Cooler by ENGEL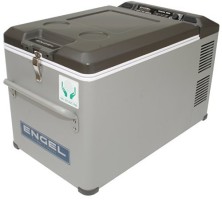 Having a solar-powered cooler at your campsite will chill your drinks and keep food fresh for the duration of your expedition. The ENGEL solar-compatible cooler is extremely efficient in terms of energy usage, typically consuming only a few amps per hour. That's less than the energy usage required by interior lights in most cars. While it doesn't come with its own solar array, you could keep this cooler going indefinitely just by plugging it into a solar panel.
8. Solar-Powered Speakers by Eton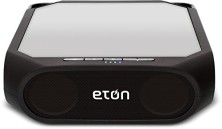 With solar-powered speakers, you can provide the soundtrack to a perfect campsite atmosphere. Eton speakers come with a built-in solar panel and chargeable batteries, which means you get more than eight hours of continuous play before needing to charge again. With two full-range stereo speakers, sound quality is top-notch. And just for good measure, these speakers come equipped to charge your smartphone, too. That way you can keep the music going with the Bluetooth connection between your phone and the speakers. Consider checking out Spotify for some great camping playlists.
9. Solar-Powered USB Charger by BW Distributors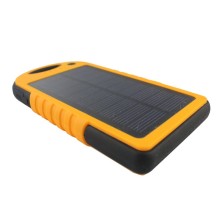 A solar-powered USB charger acts like a middleman between the sun and non-solar devices. Weighing only 7.2 ounces, the USB charger from BW Distributors is easily carried on any excursion. The solid construction and no-frills style make it the perfect companion for campers, hikers, and bikers. Dual USB ports mean you can charge multiple devices at once, and the long-lasting battery can be recharged up to 800 times. Plus, the one-year, no-questions-asked warranty is a nice guarantee that your money will be well spent.
10. Solar Panel Multi-Tool Kit by Goal Zero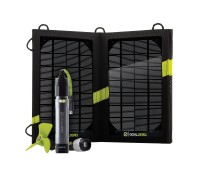 Goal Zero's ultimate solar-powered camper starting kit comes complete with everything you need to run a basic solar-powered campsite, including a quick-charge USB port, a lightweight solar panel, a built-in flashlight, and an attachable fan. The replaceable battery can be charged in 4 hours from any USB port or the included solar panel. The quick-charge USB port allows you to power any small USB device — and all of the included tools.
When it comes to carving your own trail, you want a power source that you can rely on. Batteries can die or get lost, but the sun is always right above your head, transmitting powerful, transformable, and clean energy. Go forth, noble camper, with the assurance that you will have the support you need to have an amazing outdoor experience. Happy trails.
Original Content Provided by: solarpowerauthority.com